Introduce your products in a unique way
Philips OneBlade Pro Endcap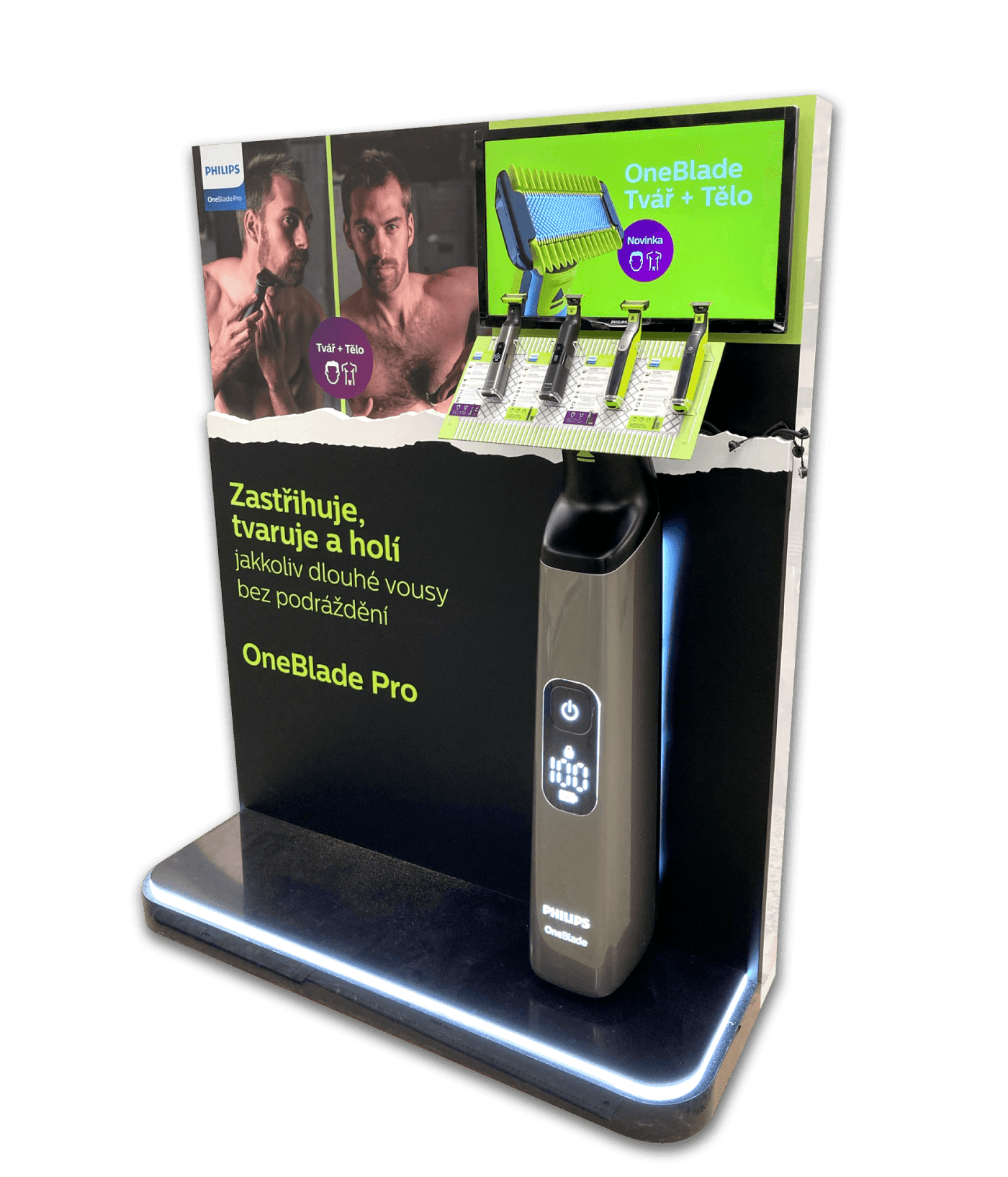 Capture your customers at first sight and introduce them to your latest innovations on the market! Eye-catching, interactive and contemporary. Take a look at the endcap realization for the Philips brand!
The front introduces customers to the new OneBlade range of razors. The display catches the eye at first sight with a perfect replica of an up-scaled OneBlade shaver, which is highlighted by a lighting effect. The razor displays the products with a quick description so that the client can choose the product according to their requirements. The face is dominated by black and white laminate with extra gloss, combined with black gloss acrylic and stickers with matt lamination. Everything is accentuated by the base, illuminated into the edges.
A TV with a video presentation of the OneBlade series is an unmistakable eye-catcher. The detail on the back of the stand shouldn't escape your attention either, where a structure of a torn OneBlade leaflet is formed from lacquered MDF board and a leaflet pocket is elegantly integrated into it. Endcap is on display at Alza Prague Holešovice, Bratislava and Budapest, where it is part of an exhibition display for Philips.
More about materials used
The basis of the frontal display is black and white laminate extra gloss, combined with stickers with matt lamination and black gloss acrylic. The shaver mock-up is made of fiberglass with a wet-lacquer finish. The endcap is sized for manipulation on a pallet, some parts are LED backlit and there is a working TV that communicates the goods on display.
Present your goods in an original way and contact us for original stands, pallet displays, endcaps and other sales aids!